"Really looking at the engagement and outcomes, there's no doubt that you've proven to me that the program works, and I'm a tough grader."

-Dr. Chester Ho, Chief Medical Officer, Health Alliance Medical Plans
Integrating seamlessly into your existing systems, Ontrak helps you to identify and engage a costly, unaddressed behavioral health population.
Significant cost reduction
We intentionally focus on the unaddressed population that represents a 5.4x greater cost savings opportunity for health plans over lower acuity behavioral health populations.
Long-term member outcomes
Through member-centric goal setting and trust building, we can deliver high-quality and whole-person care that is designed to ensure long-term, sustainable success.
Remove the complexity from member targeting
We utilize customizable, predictive analytics to inform population targeting and find eligible members for our program—all on the plan's behalf.
Our Whole-Person Solution
Identify
Uncover populations with previously unaddressed behavioral health needs by analyzing utilization patterns, demographic factors and prescription characteristics.
Engage
Remove access barriers and drive program enrollment and retention with Ontrak's team of trained, dedicated member engagement specialists, care coaches, nutrition specialists, and community coordinators.
Treat
Achieve significant behavior change and better member health outcomes with Ontrak's 52-week evidence-based, therapist-led and coach-driven treatment plans.
Activate
Create durable behavior and lifestyle changes by providing members with the knowledge, skills, health literacy and confidence to manage their conditions.
The True Cost of the Senior Behavioral Health Crisis
Untreated behavioral health issues among seniors—or delays in seeking medical care—can exacerbate co-existing chronic medical conditions. Paired with the challenge of properly diagnosing behavioral health issues in seniors, this can lead to serious negative consequences including:
4-5x higher healthcare costs versus the general population.
Worsening health that can lead to serious complications.
Download the white paper for insights on identifying and engaging this vulnerable population.
By submitting this form, you acknowledge our Privacy Statement.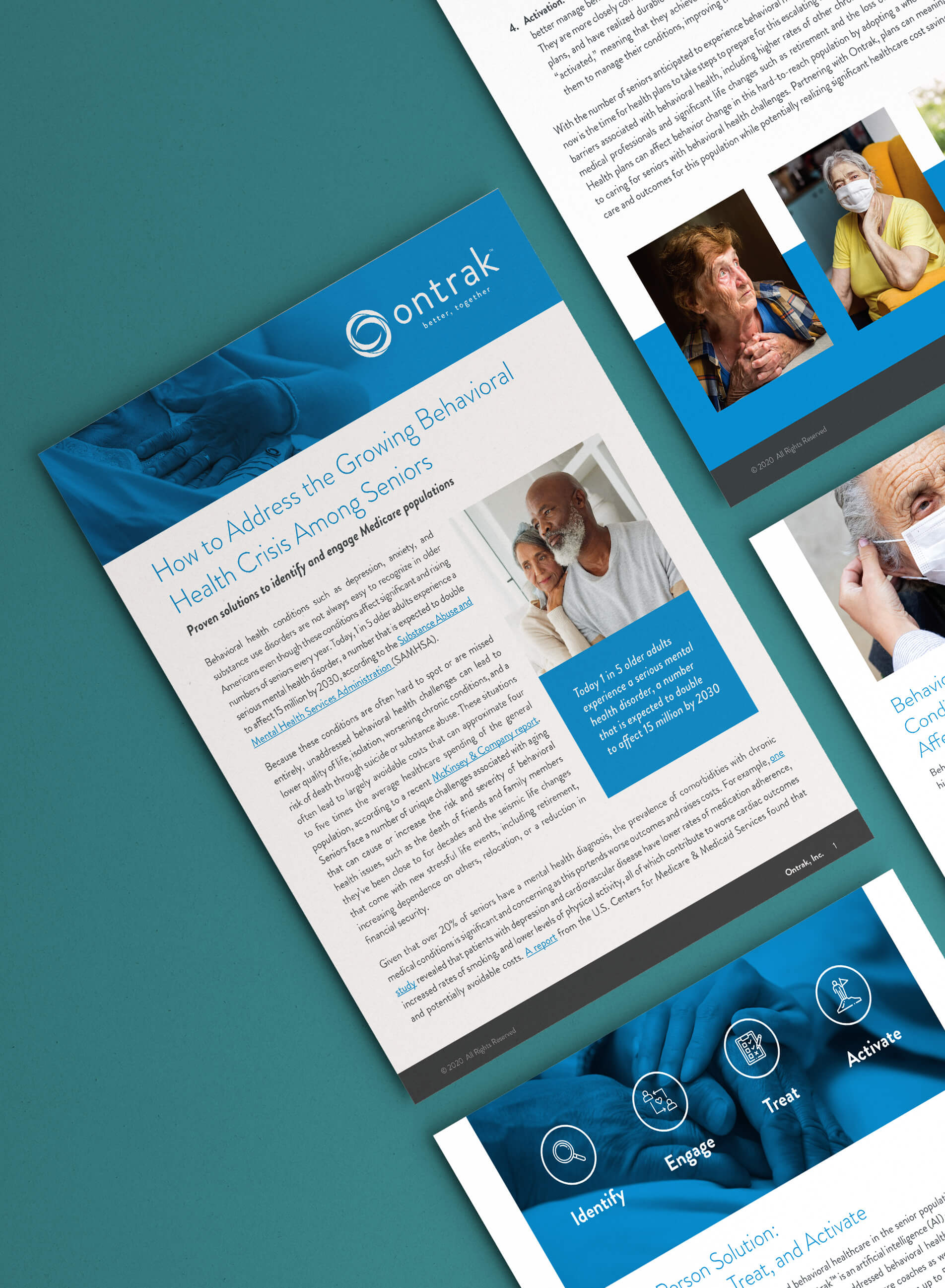 Deliver durable outcomes and reduce medical expense.
Request a one-on-one discovery session to discuss common challenges to effective behavioral health management—including population targeting, member outreach, SDOH barriers, and engagement—and where our program can integrate into your strategy to help you achieve your goals.